Gretna Branch Library Renovation
The renovation of the Gretna branch of the Pittsylvania County Public Library finally begun in spring 2022 after several pandemic-related delays. The building at 207 Coffey Street in Gretna opened in 1999 as the Northern Pittsylvania County Learning Center, also known as The Riddle Center after major contributors Dallas and Sandra Riddle, with the space divided between the branch library and satellite classrooms for the Danville Community College (DCC).
By 2016, DCC moved out of the building and the classroom space reverted to the library. In order to expand library facilities to the entire building, however, a number of interior walls need to be removed and the space configured to meet the community's needs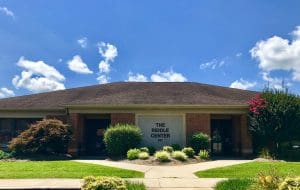 Current view of the Riddle Center.
The Pittsylvania County Board of Supervisors is providing $500,000 for the renovation.
The PPL Foundation (for Pittsylvania Public Library) is raising funds to provide new furniture, fixtures, and several upgrades to the building, including a patio/reading garden and a digital sign. The PPL Foundation is a 501(c)3 charitable organization established in 1984 to support capital and other projects for the library. The PPL Foundation has been instrumental in building the Chatham, Brosville/Cascade, Gretna, and Mt. Hermon libraries.

Plans for the renovated Gretna Branch Library.
The renovated Gretna library will make use of the entire 6,372 square foot building and its open, level site between Gretna High School and Gretna Middle School. It will offer a meeting room, a STEAM/program room, additional computers, more seating, a new teen space, and expanded adult and children's reading areas. Bookshelf heights will be lower than the current shelves, making books more accessible and improving the look and security of the library. There will be more space for more books, audiobooks, large print books, and videos. A new exterior doorway will lead from the children's reading area onto a 3,000 square foot outdoor patio space for programs and reading. The patio space will also provide seating for patrons to use while accessing the library's free WiFi even when the library is closed. A digital sign will keep the public informed about library hours, services, and upcoming programs.

Location for our new patio space.
The cost of the new furnishings, fixtures, and features is estimated at $500,000 (interior furnishings $392,000; digital sign $25,000; and original small outdoor patio at $80,000). The PPL Foundation is seeking contributions from the public as well as grants to cover the costs.
The Danville Regional Foundation and the J.T.-Minnie Maude Charitable Trust also provided additional funding to hire a landscape architect to help design expanded outdoor facilities to take advantage of the Gretna library's land. This plan, completed in February 2022, offers multiple new features for library patrons and the public in addition to the reading patio and fenced children's reading garden. A reading grove and hammock stands would provide outdoor reading and gathering space under native trees, while a lawn area and performance stage would provide space for outdoor programs. Sculptures, water features, and public art 'book benches' would add color and creative outlets, along with a children's garden maze featuring musical instruments. Outdoor work and study could take place on the patios with pierced steel privacy screens and solar-powered work tables. A planned freestanding studio building would support art and exercise programs at the rear of the library near a walking trail that would link the library to the adjacent playground and community walking trail. Fresh new landscaping, plinth for the digital sign, and a welcoming new entrance patio complete the plan.
The expanded landscape features will require additional fundraising, and there are multiple naming opportunities for local families and businesses to sponsor individual features.
If you would like to make a contribution, you can use Paypal or call Rhonda Griffin, Library Director and Secretary of the PPL Foundation, at (434) 432-3271.
If you would like to make a contribution by check, please mail to:
PPL Foundation
P.O. Box 814
Chatham, VA 24531
If you would like to discuss a naming opportunity for contributions in excess of $10,000, please contact Rhonda Griffin, Library Director, at (434) 432-3271, or any member of the PPL Foundation Board:
Mary Wertz, President
Karen Eades, Vice President
Bert Eades, Treasurer
Rhonda Griffin, Secretary
Alice Shelton, Board Member
Phyllis Roach, Board Member
Debra Turner, Board Member
Steve Scruggs, Community Member
Pittsylvania County Public Library Director Lisa Tuite joined PittCO Happenings to talk about renovations to the Gretna Branch of the library.
September 2022 Updates:  We are excited to share that indoor and outdoor renovations are underway at the Gretna Branch Library. Currently contractors are building the frame for a new meeting room, completing the installation of a sidewalk, and creating an outdoor reading garden.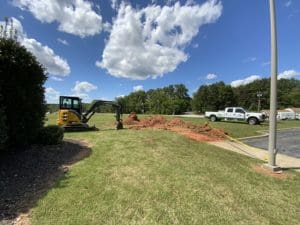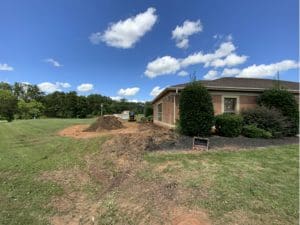 Brian Johnson and his team at Johnson Landscaping are bringing flight to Phase One of the Gretna Branch Library landscape project. Check out the beautiful progress!!