For Students
LIBRARY RESOURCES (*Provided by the Library of Virginia through a grant from IMLS)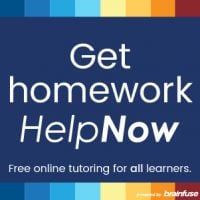 HelpNow – Brainfuse HelpNow™
Students communicate with live tutors using an interactive whiteboard to chat, write, draw, copy/paste text or images and graph homework problems.
Live online tutoring is available every day 2:00 PM to 11:00 PM EST.
HelpNow's features include:
Homework Help Interact with live tutors in math, science, reading/writing, social studies, PSAT/SAT, ACT, AP and state standardized tests.
Skills-Building Choose your topic to receive real-time help.
Personalized eLearning Tools My File Sharing, My Session Replay, My Tutoring Archive, My Tests Archive, and more!
24-Hour Writing Lab Submit essays and other forms of writing for constructive feedback.
Homework Send Question Submit homework questions for expert guidance.
Adult Learning Center Access a library of rich adult learning content (GED) and live, professional assistance in resume/cover letter writing, U.S. citizenship prep, MS Office Essential Skills Series, and more!
Foreign Language Lab /Spanish-Speaking Support  
Great Courses (on Hoopla) – audio downloads available on Hoopla (requires free registration using your library card)
Transparent Language Online provides an effective and engaging experience for language learners looking to build their vocabulary, practice their listening, speaking, reading, and writing skills, and maintain what they learn. With courses and supplemental resources in 110+ languages, Transparent Language Online can be accessed anytime, anywhere, on almost any device.
Universal Class* — 500+ free online courses, from accounting to writing skills, including homeschool and teacher resources
Online Resources for Students
Pre-K and Kindergarten
Starfall (contains free and subscription materials)
Elementary
Starfall (contains free and subscription materials)
Google Arts and Culture (virtual museum tours and exhibits)
Whyville virtual learning world
Middle School
Google Arts and Culture (virtual museum tours and exhibits)
Whyville virtual learning world
High School
Codecademy (basic courses are free)
USA Learns (ESOL, Citizenship)
Google Arts and Culture (virtual museum tours and exhibits)
Flinn Scientific At Home Science Lab Series
College
Applied Math and Science Education Repository
Google Arts and Culture (virtual museum tours and exhibits)
Open Culture Free Online Courses
Alison free online education and skills training. Certificate programs possible (pay if you want a certificate)
iTunes U free courses (only available on iPhone, iPad, or iPod Touch)
Stanford Online (select free courses; also offers degree and certificate courses for a fee)
Harvard Extension Courses (offers free non-credit courses as well as paid certificate courses)
Open Yale Courses (free no-credit courses)
UC Berkeley Class Central (free no-credit courses)
MIT Open Courseware (free no-credit courses)
Carnegie Mellon Open Learning Initiative (free no-credit courses)