For Students
LIBRARY RESOURCES (*Provided by the Library of Virginia through a grant from IMLS)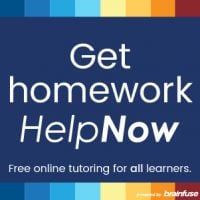 HelpNow – Brainfuse HelpNow™ provides differentiated learning solutions for users of diverse needs and background.  Students communicate with live tutors using an interactive whiteboard to chat, write, draw, copy/paste text or images and graph homework problems. HelpNow™ is available to all library patrons from the public computers at their local library or from any computer with internet connection.   
Gale Cengage Career Transitions* — Career Transitions provides guidance and essential activities for job seekers and those investigating new careers options, including the college bound, enrolled students, and soon to be graduates and alumni.
Great Courses (on Hoopla) – audio downloads available on Hoopla (requires free registration using your library card)
Rocket Languages* – language learning for high school students and the general public; includes learning English for Spanish-speakers.
Universal Class* — 500+ free online courses, from accounting to writing skills, including homeschool and teacher resources
Online Resources for Students
Pre-K and Kindergarten
Starfall (contains free and subscription materials)
Elementary
Starfall (contains free and subscription materials)
Google Arts and Culture (virtual museum tours and exhibits)
Whyville virtual learning world
Middle School
Google Arts and Culture (virtual museum tours and exhibits)
Whyville virtual learning world
High School
Codecademy (basic courses are free)
USA Learns (ESOL, Citizenship)
Google Arts and Culture (virtual museum tours and exhibits)
Flinn Scientific At Home Science Lab Series
College
Applied Math and Science Education Repository
Google Arts and Culture (virtual museum tours and exhibits)
Open Culture Free Online Courses
Alison free online education and skills training. Certificate programs possible (pay if you want a certificate)
iTunes U free courses (only available on iPhone, iPad, or iPod Touch)
Stanford Online (select free courses; also offers degree and certificate courses for a fee)
Harvard Extension Courses (offers free non-credit courses as well as paid certificate courses)
Open Yale Courses (free no-credit courses)
UC Berkeley Class Central (free no-credit courses)
MIT Open Courseware (free no-credit courses)
Carnegie Mellon Open Learning Initiative (free no-credit courses)